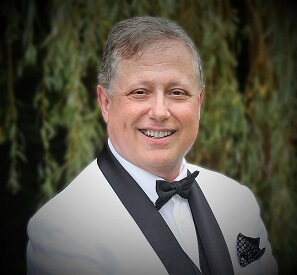 Frank Iacopelli has been part of the Tri-County Science & Technology Fair since its very beginning at Purchase College in 1994, when he volunteered as a judge.  He later offered to help out that day tabulating the scores using a mechanical "adding machine."  Today, he directs the Judges' Committee.  For more than a decade, Frank has recruited well over 750 technical professionals throughout the country to serve as a judge.  Plus, he ensures that scores are calculated today using sophisticated algorithms on state-of-the-art laptop computers!
His earliest recollection of science fairs came during his 8th grade school science fair project, which taught him the value of combining good science, good math, and good presentation skills.  He came away with a first-place award!
He credits his continued interest in science and technology from his grandfather and uncle, who were both chemists, and his parents, who encouraged him to pursue a career as a chemical engineer. And while he started in chemical engineering research & development, Frank later branched off to different areas like consumer product testing, quality management, and business process improvement. But through it all, Frank continued his volunteer efforts with the fair to bring high-quality judges and mentors together with high caliber students and their projects.
Frank is currently Manager of Business Process Reengineering at Nitto, Inc., where he oversees process improvement initiatives that add customer value.  Before Nitto, Frank was Manager of Technical Services and Marketing at Independent Chemical Corporation, and he worked at Consumer Reports for more than 25 years, where his roles spanned from Project Leader to Director, Quality Management.  In his early career, Frank conducted pilot plant process research and development with Stauffer Chemical Company and the Linde Division of Union Carbide.
Frank has a B.E. from Cooper Union and M.E. from Stevens Institute of Technology, both in in Chemical Engineering, and he is a certified Green Belt in Lean Six Sigma process improvement methodology.  He is a former Chair of the Tappan Zee Chapter of the American institute of Chemical Engineers (AIChE) and President of the Hudson Valley Council of Technical Societies (HVCTS), both early sponsors of the Tri-County Fair, and a member of the American Society for Quality (ASQ) and Tau Beta Pi engineering honor society, all great sources for recruiting.
Volunteering to help out the Tri-County Fair has been a family affair for Frank.  His wife, Francine, helps judge Psychology exhibits, while his two daughters, Amanda and Christina, have both been highlighted in "Spotlight on Volunteerism" over the years for their decade-long work as scoring tabulators, videographers, and editors of the Fair's Facebook page (https://www.facebook.com/pcdctcsf) and YouTube page (https://www.youtube.com/channel/UCrPMWO2n2SuD7maZWB73O0g)
You can find Frank on his LinkedIn page at https://www.linkedin.com/in/frankiacopelli/
New award 
The Frank Iacopelli Award for Academic Excellence in Science, Technology, Engineering, and Mathematics goes to the highest overall score among all other high schools that have a minimum of three exhibits entered in the competition. The very first Frank Iacopelli Award for Academic Excellence in Science, Technology, Engineering, and Mathematics goes to
BYRAM HILLS HIGH SCHOOL